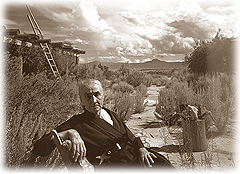 O'Keeffe, Georgia
Perhaps one of the most compelling of 20th-century American artists, Georgia O'Keeffe's representations of the beauty of the American landscape are in direct opposition to those generally embraced by the art world and the public. The stark reality of her painting, with such vibrant colors and scintillating energy have often been copied, but never have the precision and intimacy of her work been captured.

Born the second of seven children in Sun Prairie, Wisconsin, O'Keeffe (November 15, 1887 – March 6, 1986) aspired to becoming an artist at an early age. She attended the Art Institute of Chicago in 1905, and a year later moved to New York to study at the Art Students League. She abandoned fine art for several years, working as a commercial artist in Chicago, and then teaching.

In 1915, O'Keeffe met Oriental Art specialist, Arthur Dow, whom she credited with helping her find her style. Soon after, she sent a small portfolio of charcoal drawings to a friend in New York, who showed them to photographer and gallery owner, Alfred Steiglitz. Steiglitz was very taken with the energy of her work, and decided to show the drawings. And so it was that, without her knowledge, Georgia O'Keeffe had her first exhibition at Steiglitz's "291 Gallery" in 1916.

Within two years, O'Keeffe had moved to New York, and with the support of Steiglitz was devoting her time to painting. Regular showings at the "291 Gallery" were well received, and O'Keeffe developed a following. Six years later, Steiglitz and O'Keeffe married, beginning one of the best-known and prolific collaborations of the modernist era. The two lived and worked together for the next 20 years. O'Keeffe showed her work at the gallery annually, and Steiglitz created a significant body of portraits of O'Keeffe. It was in New York City and Lake George, New York, that O'Keeffe painted some of her most famous works, with her lush flowers and cityscapes among them.

In 1929, O'Keeffe vacationed with a friend in Taos, New Mexico, where the big sky and sun-drenched landscape forever altered the course of her life. She returned every summer until Steiglitz's death in 1946, and then moved to New Mexico permanently. Her early landscapes have become icons: with rich textured skies and clouds, they bore a similarity to her sensuous flower paintings. But beneath the skies and clouds one found what would become her trademark, bleached bones and skulls of animals long gone.

In the following years, O'Keeffe's fame continued to grow. She traveled the world, and had a number of retrospectives. Her show at the Whitney Museum of Art in New York in 1970, placed her forever as one of the most influential of American painters. A year later, her vision deteriorated dramatically and she stopped painting for several years. In 1977, O'Keeffe was awarded the Medal of Freedom by President Gerald Ford, and in 1985, she received the Medal of the Arts from President Ronald Reagan. In March of 1986, O'Keeffe passed away at St. Vincent's Hospital in Santa Fe, New Mexico, at the age of 98. Today, her work remains an important part of the collections of national and international museums. (~Aimee)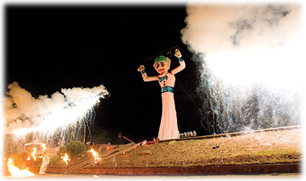 Old Man Gloom (Zozobra)
Zozobra is staged each year by the Kiwanis Club of Santa Fe, as a fiery and exciting kick-off to the annual Fiestas de Santa Fe, during the first weekend in September, following Labor Day.

Thursday evening, at dusk, the popular Zozobra event takes place at Fort Marcy Park, located just a few blocks from the historic Santa Fe Plaza. This is the annual ceremony of the burning of Old Man Gloom. Zozobra, the inspiration of artist Will Shuster, was introduced as part of the Fiesta events in 1926. Old Man Gloom first appeared as a six-foot puppet, but the Zozobra figure has since grown to be over 50 feet tall. Made of muslin and stuffed with shredded paper, Zozobra is an eerie, groaning, flailing character, who looks to be part ghost and part monster.

Amid fireworks and the ceremonial dances of ghosts and fire, Zozobra is set ablaze by torches. As Old Man Gloom burns, it is said that with him go the feelings of gloom and doom from the past year. The sound of the groaning Zozobra can be heard throughout the city and for miles around. (~Jean)
See more about Zozobra

The Oldest Church (San Miguel Mission Church)
Recognized as "the Oldest Church in the United States," San Miguel Mission is located one block south of Loretto Chapel on Old Santa Fe Trail, between Alameda and Paseo de Peralta. Within easy walking distance from the historic Santa Fe Plaza, it is now surrounded by lovely restaurants and shops, and with the "Oldest House" right down the alley, it's definitely a must see on any Santa Fe site list.

The Mission was built by Tlaxcalan Indians from Mexico in the early 1600s, under the direction of Fray Alonso de Benavides, OFM. During the Pueblo Indian rebellion of 1680, the roof was burned and destroyed. After resettling Santa Fe in 1694, General Diego de Vargas had a new roof constructed and repairs continued until 1710.

A three-tier tower was constructed around 1830, and in 1887, a single facade tower was built, with massive stone buttresses added for support. The reredos (or altar screen) in the Mission dates from 1798, and is the oldest wooden reredos in New Mexico. There is also a wood carved statue of St. Michael, celebrating the victory over Satan. The Mission is open to the public during the week and there is a small gift shop adjoining the main church. Regular services are held each Sunday. (~Jean)

See more about the Historic Churches of Santa Fe

The Oldest House
Known as the oldest house in America, it certainly offers a whiff of charm akin to the olden days. Small and quite dark inside, the authentic adobe construction offers a cool repose from a hot Santa Fe summer day. Across the street from the Oldest Church (located at 401 Santa Fe Trail), it makes for an easy double tourist-trip back in time. The Oldest House is located at 215 East De Vargas Street. (~Jean)
See more about the Historic Adobe Architecture of Santa Fe


Pictured top to bottom:
1} Georgia O'Keeffe at her home, Ghost Ranch, in Northern New Mexico; 2} The celebration of Zozobra in Santa Fe, New Mexico; 3} The Oldest House in America is in Santa Fe.